Historic temples and buzzing nightlife, award-winning dining and tranquil beaches, Cambodia has it all and more. This southeast Asian country is bordered by Thailand, Laos and Vietnam, and has a scenic coastline alongside the Gulf of Thailand. While the country has suffered in recent times, it has been picking itself back up over the past few decades and is moving forward with tourism and textiles as its two main trades. The capital of Phnom Penh has become a must-see for visitors in the region, and Siem Reap has made a name for itself as a resort city with the incredible Angkor Wat as its star attraction.
As well as the main centres, there are phenomenal sites all over the country. The beaches along the coastline are abundant, warm-watered, and thriving with ocean life and swimmers, snorkellers, and paddle boarders alike. Roughly in the centre of Cambodia lies Tonle Sap, a massive seasonal freshwater lake where millions live on the edges and make a living by catching fish. Visitors are welcome at the fascinating floating village of Chong Khneas, where you can take a two-hour tour of the boats and homes.
One of the best ways to get around is with your own set of wheels, so a car hire in Cambodia will help you see and do it all.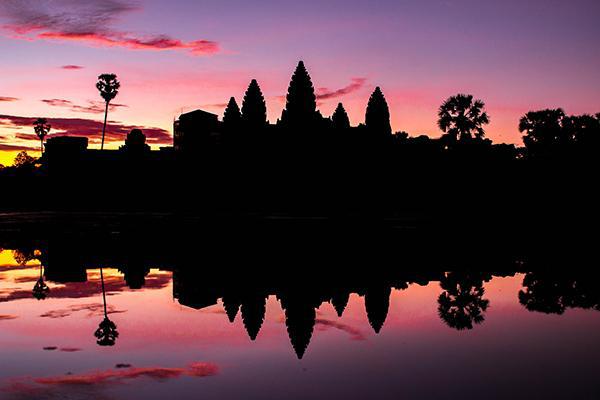 Find the best deals on car hire in Cambodia with AirportRentals.com
Before you start deciding which route to take and which sights to see, you'll need to secure a rental car in Cambodia that will make it all happen. For a fast and easy way of searching all available vehicles from multiple car hire companies in Cambodia, run a quick search on Airport Rentals.
Simply by entering your travel dates and locations, you can view and compare all vehicles available at those times, instead of having to approach each rental company individually. The list will automatically show the most affordable cars at the top of the page, and each vehicle is shown with its major features and benefits of rental.
Once you've found the perfect car rental for your needs and budget, you can book instantly and securely online with Airport Rentals. There is no additional booking fee, and you can make use of the 24/7 customer assistance should you have any questions throughout the process.
Top rental locations in Cambodia
It's likely that most travellers will arrive by plane in the capital (Phnom Penh) then begin their road trips from there, but keep in mind you can rent a car in other locations around Cambodia. Plus, you can organise to pick up your vehicle in one spot and drop it off in another for a one-way trip - simply uncheck the 'return to same location' box when running your search on Airport Rentals.
● Phnom Penh and Phnom Penh Airport: The bustling capital of Cambodia, Phnom Penh is the perfect place to begin a road trip. The city's architecture and temples are the obvious first places to see, including the Royal Palace and Independence Monument. Then, head out of the city to discover the ruins of the Ta Prohm Temple, or head northwest to explore the Tonle Sap lake.
● Siem Reap and Siem Reap Airport: Siem Reap is known for its Chinese architecture, Old Market, and Old French Quarter, making it a mesmerising city to visit during your time in Cambodia. It's also where you will find Angkor Wat, arguably the top attraction in the country, and a must-see for road trippers from Siem Reap.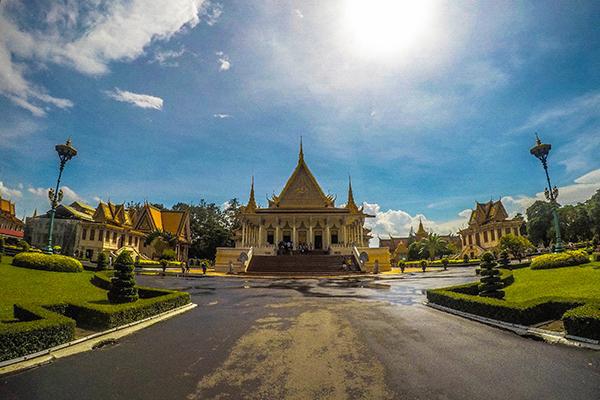 Top car hire suppliers in Cambodia
Cambodia doesn't have a huge variety of car rental companies, but those that are there offer a huge variety of rental vehicles. Avis is a popular option for many travellers renting vehicles in Cambodia, as it offers rental desks in several locations, a wide variety of cars, and exceptional value and customer service. This makes it easy to find a car hire that suits your needs, even if you're looking to tackle a one-way road trip from Phnom Penh to Siem Reap or vice versa. Secure your booking online with Airport Rentals to take advantage of the traveller benefits and perks.
Road rules in Cambodia
The traffic in Cambodia can be somewhat chaotic, but there is a system of road rules in place, and even if the locals don't always follow them, you certainly should. Read up on the laws before you arrive so you know what to expect when you get behind the wheel.
● You will be driving on the right-hand side of the road.
● You are not permitted to use your horn in built-up areas after midnight.
● The speed limit for cars is generally 40km/h in towns, and 100km/h on the open road.
● The blood alcohol concentration level maximum is 0.05%, but it is safest simply to abstain if you are planning to drive.
● You are only permitted to use cellphones with hands-free sets.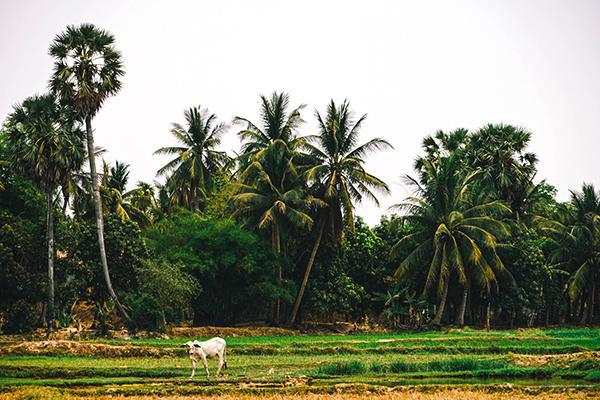 Driving tips in Cambodia
Not many Cambodians hold valid driver's licences, so visitors will need to be extra careful on the roads. Follow these tips for a smooth driving experience in Cambodia.
● Be extra wary of other drivers, as locals don't tend to follow the usual road rules.
● Avoid driving outside of the cities at night as wildlife can wander onto the roads.
● Consider opting for a 4WD vehicle if you're looking to leave the cities, as the rural roads are not usually in great condition.
● Note that in the rainy season, potholes filled with water look like puddles, so either avoid driving over them or slow down just in case.