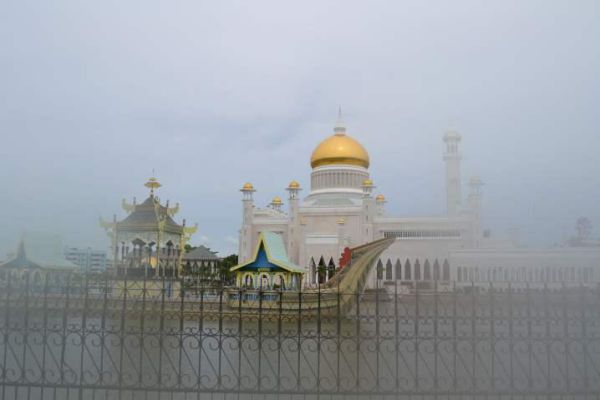 Image: Pixabay
Explore the tiny nation of Brunei with an airport rental car from Bandar Seri Begawan.
Located in the northeastern part of the country, this capital city, nicknamed BSB, is home to just under 30,000 residents. BSB offers superb tourist attractions like the ornate Sultan Omar Ali Saifuddin Mosque and Istana Nurul Iman Royal Palace. Don't miss Jerudong Park, the largest amusement park in Southeast Asia.
Explore more of Brunei and head north to Kuala Belait, or talk to your rental car provider about driving into neighbouring Malaysia.
Hiring a cheap Bandar Seri Begawan rental car with Airport Rentals
Pre-book a cheap car hire with Airport Rentals for a quick and secure rental process. Find cheap rental rates for Brunei International Airport using our highly-rated comparison site. Simply type in your travel dates to generate a comprehensive list of available vehicles, and compare their benefits side by side. Use the handy filters to narrow your selection by transmission preference, brand and more.
Once you've made your final selection, complete the booking and get instant confirmation with free benefits such as unlimited mileage. Plus, never worry about hidden fees. If you have any questions, don't hesitate to reach out to our 24/7 customer service line.
Brunei International Airport (BWN)
Brunei International Airport is the main airport in the small nation, serving the Bandar Seri Begawan region. The terminal can process up to 2 million people each year and has amenities like restaurants, a bar, an information desk and prayer room. You can get free internet access in the lounge, restaurants and cafe, otherwise opt for pay-per-use WiFi in the terminal. When you are ready, head to the Arrivals Hall to pick up your car hire keys.
If you are picking up a rental car at one of the downtown Bandar Seri Begawan depots, pre-arrange a shuttle with your hotel, take one of the purple city buses or hail a metered taxi.
Guide to driving a rental car in Bandar Seri Begawan
Use our helpful guide to driving, directions and parking in Bandar Seri Begawan.
Driving from the Brunei International Airport to downtown
The drive from the Brunei International Airport to the city centre takes less than 15 minutes. Exit the airport and follow signs to the city. At the roundabout, take the 3rd exit onto Jalan Lapangan Terbang Antarabangsa, then take the exit toward Jalan Menteri Besar and continue on this road through the roundabout. Finally, turn right onto Kebangsaan Road to enter the city limits.
Driving tips for your Bandar Seri Begawan rental car
Drivers in Brunei are known for being polite and patient. Traffic is rarely a problem and GPS signals work great throughout the city and country.
Brunei car hire driving tips
● Drive on the left side of the road and overtake on the right.
● Always buckle up.
● Speed limits are as follows: 80 km/hr on highways, 60 km/hr in urban areas and 25 km/hr in school zones.
● Never leave valuables in your car hire.
● Turning left on a red light is allowed unless otherwise indicated.
Parking options at the airport and downtown Bandar Seri Begawan
Parking is available at Brunei International Airport for both short and long-term parking.
Downtown Bandar Seri Begawan is a great walking area with options to park at nearby tourist attractions and hotels. Paid on-street parking is available, and many accommodation providers offer free guest parking.
If this is your first time driving abroad, read our top tips for driving in a foreign country.