Sitting on the edge of southeastern Europe in the Balkan Peninsula is Bosnia and Herzegovina, a nation with a revered past and incredible topography. The country is landlocked except for a 20-kilometre stretch on the Adriatic Sea in between Croatia and Montenegro. Outdoor lovers fall in love with the rich countryside and mountainous landscape while history buffs take interest in the medieval and Roman architecture scattered throughout the nation. The country has rebuilt itself from the terrible civil war, which occurred 20 years ago and is now a travellers' hotspot known for its warm hospitality and eccentric city scenes.
Home to over 3.5 million people dating back to the Neolithic age, this Balkan country is ideal for multi-stop road trips including ancient cities and alpine adventures. Reserve a car to start your trip in the capital city of Sarajevo, restored from the unfortunate war with quirky cafés and history lessons scattered across the town. It's central location makes it a perfect starting point to access a number of top spots. Head towards the Dinaric Alps for a holiday of skiing or hiking, cruise south to Mostar for its medieval arched bridge and sizeable markets. Discover waterfalls and top rafting locations and so much more with your own set of wheels.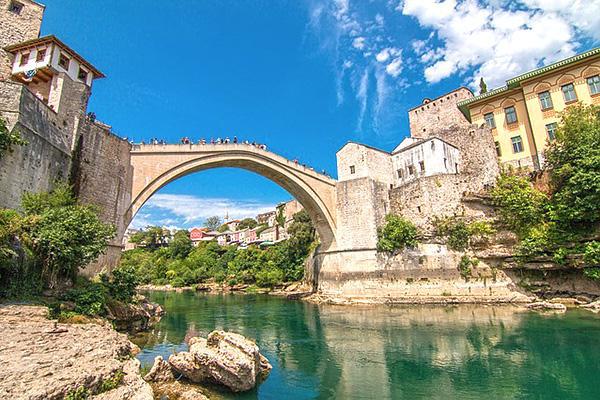 Why book with Airport Rentals in Bosnia and Herzegovina
The best way to explore Europe's top sights is with your own set of wheels, and Airport Rentals is here to make your search for a cheap car hire fast and easy. With a simple search of your travel dates for Bosnia and Herzegovina, you'll find affordable daily rates from international trusted suppliers available in a number of locations across the country.
You can personalise your search using handy preference filters for details such as brand, transmission type, vehicle capacity and more. Once you've refined your search down to the perfect vehicle, get instant confirmation in just a few clicks and make any necessary updates to your booking using our online reservation system. Plus, if you need any help throughout the booking process, you can reach out to our expert customer service team available 24 hours a day, 7 days a week.
Rental locations in Bosnia and Herzegovina
Bosnia offers a plethora of locations to collect a car hire, here are a few of the top spots:
Sarajevo - For ultimate convenience, collect a car at Sarajevo International Airport to start your trip as soon as you fly in. Even though it is the capital and largest city in the country, the metropolis is actually well compact making it easy to explore. Learn of its storied past from one of the many museums throughout Sarajevo before exploring the rest of the country.
Banja Luka - Secure a car hire in the second most populated city situated in northern Bosnia and Herzegovina. Tour fortresses dating back to Roman times and don't miss out on the enticing nightlife. This city is located just a short drive from Gradiska which sits on the Croatian border
Tuzla - Land at Tuzla Airport to discover the country's third largest sprawling city, and pick up a car hire to reach the region's favourite attractions. Spend time in the charming old town full of sidewalk cafés and markets. Take a dip in the Pannonica salt lakes, a hotspot around summertime. Cruise southeast to visit Drina great for kayaking and rafting near the mountains.
Mostar - Pick up your car hire at the airport or in town to make the most out of this medieval city. Its Stari Most bridge is a famous landmark built in 1566. Winding alleyways are filled with handcrafted goods and fresh street food. Head south to the coast and don't miss Kravice National Park famous for its waterfalls.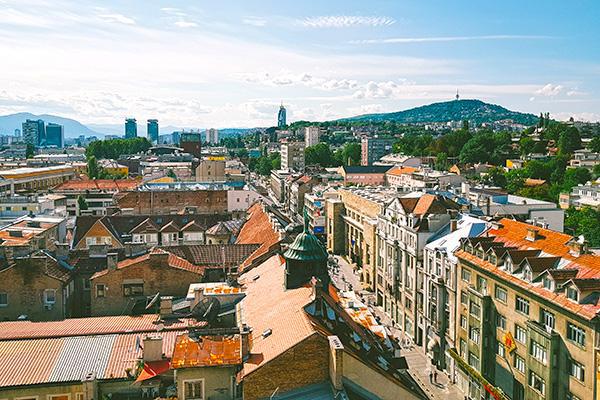 Rental companies in Bosnia and Herzegovina
Drivers are spoiled for choices for rental brands in Bosnia and Herzegovina. Airport Rentals offers vehicles from trusted local and international providers across the country. Enjoy a wide selection of cars from petrol-friendly economy vehicles to luxury SUVs and everything in between. Hire with a favourite international company such as Alamo, Avis and Enterprise or choose a budget-friendly brand like Sixt and Europcar. You'll have no trouble finding the right car hire for your European adventure.
Road rules in Bosnia and Herzegovina
Along with driving on the right side of the road, here are a few important rules of the road for Bosnia and Herzegovina:
● The speed limit is 60kph in cities, 120kph on highways and 80kph on country roads.
● It is compulsory for the driver and all passengers to wear seatbelts.
● Children under the age of 5 must use a child seat and children under 12 cannot sit in the front seat.
● Always keep your driver's license on you. An international driving permit may be required - check with your specific car hire company.
● Car insurance is mandatory.
● The blood alcohol content limit for drivers is .03% and intoxicated passengers are not allowed to sit in the front seat.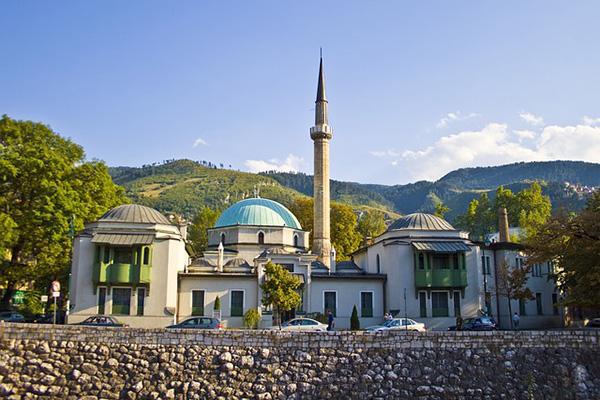 Driving tips for Bosnia and Herzegovina
On top of mandatory road rules, it's best to learn local driving tips when travelling around the country. Here are a few to make your driving experience easier:
● Motorways are typically single-lane roads, expect delays when overtaking is not possible.
● Use headlights on while driving during the day.
● Avoid driving long hours at night as the roads between cities are poorly well-lit.
● If you are travelling during winter, make sure your car hire has proper winter tyres and snow chains when driving in the mountains.
● Be prepared in the rare chance of a car rental breakdown.
Europe is the best continent for road trips. Cross into multiple countries over a short period, with each one offering one-of-a-kind experiences. Look into the most scenic drives in Europe or plan your own route with hundreds of Airport Rental locations dotted throughout the continent.