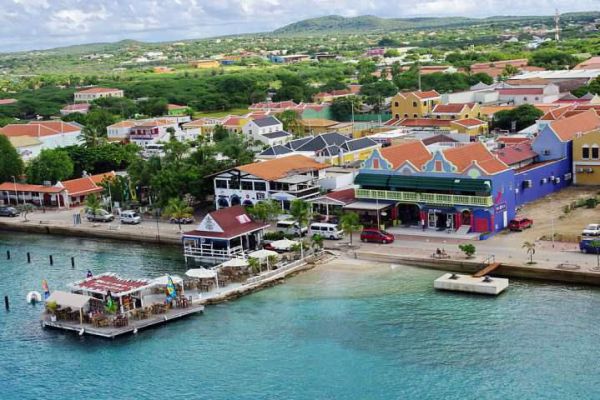 Image: Bgabel
Leave your worries behind and travel to the invigorating city of Kralendijk. Located on the Dutch Caribbean island of Bonaire, Kralendijk offers an abundance of fun and exciting tourist activities, including horseback riding, scuba diving, windsurfing, hiking and more. Rent a car to experience them all.
Spend time strolling along colourful Kaya Grandi, Kralendijk's main street lined with unique shops, restaurants and cosy cafes, and then drive your hired car to one of the island's twenty-two sandy beaches for some relaxed sunbathing.
Hiring a cheap rental car in Kralendijk with Airport Rentals
Hiring a cheap rental car with AirportRentals.com is fast and easy. In a few simple keystrokes you'll have access to our live inventory of cars for hire at Flamingo International Airport. Compare a wide range of cars across multiple brands and models, including economy, SUV, and luxury. Specific car details are neatly laid out in a user-friendly format so you can easily see the benefits and find your perfect rental. Finalise your booking on our secure site and receive instant confirmation.
Online reservation management and 24/7 customer service are just a couple of the perks that make Airport Rentals your best choice for car hire.
Flamingo International Airport (BON)
Flamingo International Airport is conveniently located about 3 kilometers from the center of Kralendijk on the coast of the Caribbean Sea. Also known as Bonaire International Airport, it receives flights from its sister island Curacao, and large international cities like Amsterdam, Atlanta, and Santo Domingo in the Dominican Republic. Flamingo Airport is small yet well-organized and offers its visitors a restaurant, snack bar, a few shops, and a VIP lounge. Its pink facade is just a precursor to the fun and colourful city of Kralendijk.
Head out the main terminal doors and across the parking lot to the car hire kiosks to begin an unforgettable island adventure in your rental car. If you've made arrangements to pick up your rental offsite in Kralendijk, head to the taxi stands located outside the main terminal doors.
Guide to driving a car rental in Kralendijk
Read on for handy tips on driving and parking in Kralendijk.
Driving from Flamingo International Airport
To access Kralendijk, exit the airport onto Kaya International to Kaya Industria. Turn left to drive to the coast and right to access downtown.
Driving tips for your Kralendijk rental car
● Drive on the right side of the road, overtake on the left.
● Traffic already on a rotary (roundabout) has the right-of-way.
● There are many one-way streets in Kralendijk.
● Children under the age of 12 must be in a properly-fitted child restraint in the rear of the vehicle.
● Speed limits are as follows:
-40 km/hr in town
-60 to 70 km/hr outside of town and where posted
Parking in Kralendijk and at Flamingo International Airport
Flamingo Airport is equipped with a short and long-term parking lot, located just a short walk beyond the taxi stands.
Parking space in Kralendijk can be found in paid and free lots as well as on the street. However, it is illegal to park on a busy street or to park in front of a post-office or a bank. Adhere to parking time limits to avoid costly fines.