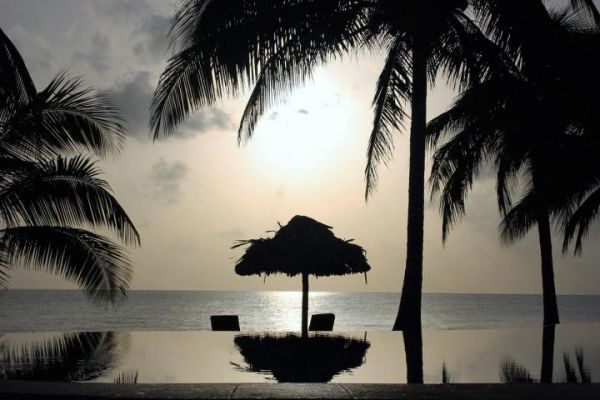 Image: Pixabay
Belize sits snug between Mexico, Guatemala and the Caribbean Sea in Central America. Attracting visitors with its incredible beaches, laidback lifestyle and tropical weather, Belize is best explored by rental car as you easily make your way from one attraction to another.
The country's jungle mainland is a bounty of Mayan Ruins, rainforests, mountain ranges, rivers and caves, while its palm-tree lined coast glistens with turquoise waters. People from all over the world are drawn here to take part in adventurous outdoor excursions and to experience its natural beauty, exotic wildlife and delicious cuisine.
Scuba divers and snorkelers come to discover the vastness and unknown creatures lurking inside the Great Blue Hole, a massive sinkhole located about 70 kilometers off the coast of Belize City. Others come to explore the hundreds of islands, also known as cayes, dotting the enormous Belize Barrier Reef.
Extend your trip to nearby countries with the option to drop your rental car off in Honduras, El Salvador, Nicaragua, and more.
Airport Rentals - your number one choice for a cheap car rental in Belize
Renting an affordable car in Belize is quick and easy with AirportRentals.com. Airport Rentals has streamlined the rental process so you don't have to spend hours comparing deals from multiple websites. Simply provide your destination including travel to and from dates, and our powerful search engine will generate a list of cars for hire from a wide range of suppliers. Use preference filters to narrow down search results and locate the ideal car for your Belize road trip.
Once you've made a decision, get instant booking confirmation through our secure website. There are no hidden fees when you book with Airport Rentals and, along with free benefits, you get 24/7 access to our knowledgeable and dedicated customer service team.
Top rental locations in Belize
Belize City - Located along the coast of the Caribbean Sea, Belize City is a popular destination for tourists looking to trade in the mundane routine of their daily lives for seaside adventure and fun. Belize's largest city is known for its nature preservation efforts and travelers here will find a vast selection of natural sights and attractions to explore.
Belize City Airport - If you're flying into Philip Goldson S.W. International Airport, you'll find yourself in the heart of Belize's largest village, Ladyville. Located about 14 kilometers south of this small tropical paradise is Belize City, connected by the Northern Highway. Discover beautiful Caribbean islands only a short ferry ride away.
Placencia - Placencia is a laid-back beach town located on Placencia Peninsula, a long and narrow piece of tropical land. The village is accessible by car and along Placencia Road there are numerous natural sights to explore. This relaxed town is a popular destination for tourists looking to partake in adventurous tours, or spend days relaxing on its palm-tree lined beaches.
Top rental brands in Belize
Belize rental locations include three of the most trusted brands in car rental. We work with these international suppliers in hundreds of countries all over the world which means we are able to secure prefered rates and pass on these savings to our customers.
● Hertz - scores consistently positive reviews and offers a fantastic fleet of vehicles.
● Avis - strives to deliver excellent customer service.
● Budget - offers value for money and efficient service.
Secure your booking for your favourite brand with Airport Rentals to receive extra benefits. Use our online reservation management system to change or update your booking at any time.
Belize Road Rules
Belizean road rules are a bit more relaxed than in larger countries like Canada or the US, but tourists here should respect the laws and drive with caution to avoid accidents or fines. Here are a few of the more pertinent rules of the road:
● Drive on the right side of the road, overtake on the left.
● Seatbelts are mandatory for drivers and passengers at all times.
● You must be 18 years or older to rent a car in Belize.
● Speed limit signs are displayed in miles per hour (mph).
● Speed limits are 55 mph on highways and 25 mph in towns.
Tips for driving a car hire in Belize
● Carry your driver's license and passport with you at all times.
● Speed bumps are often used in place of stop signs and crosswalks.
● Keep a full tank of gas when driving in remote areas as fuel stations are scarce.
● Avoid driving at night as roads tend to be winding, bumpy, and poorly lit.
● Follow the posted speed limits and allow others to pass.
● Road conditions become hazardous during hurricane season (May - November). Drive with extra caution and do not attempt to cross low bridges with water overpour.
Have a read through our road trip essentials for practical tips on how to ensure your road trip goes off without a hitch.