Muharraq is a small and picturesque city located on Muharraq Island only 7 kilometres from Manama, the capital of Bahrain. Art, culture, and winding alleys lined with traditional Bahraini homes dominate the city. Rent a car to explore the city and travel along the coast of the Persian Gulf.
Hot spots include Amwaj, a compound made on an artificial island packed with hotels, resorts, shops, and restaurants, and Pearl Trail, a self-guided walking tour that takes you through the alleyways in pursuit of unique Bahrain architecture.
Discover more of Bahrain in your rental car and head northeast to Manama for some waterpark fun, camel viewing, and historical tours.
Hiring a cheap car rental in Muharraq with Airport Rentals
Hiring a cheap rental car at Bahrain International Airport is easy with AirportRentals.com. Simply type in your itinerary details to view a comprehensive list of cars available on your travel dates. Each listing contains rental details like free benefits, specs and location, in a user-friendly format. Use the preference filters on the left-hand side of the page to narrow search results and find the perfect car for your travel needs. An economy car is a great affordable option for a longer road trip, while a spacious van is ideal for traveling with multiple passengers carrying luggage. Whatever your travel plans require, Airport Rentals has got it covered.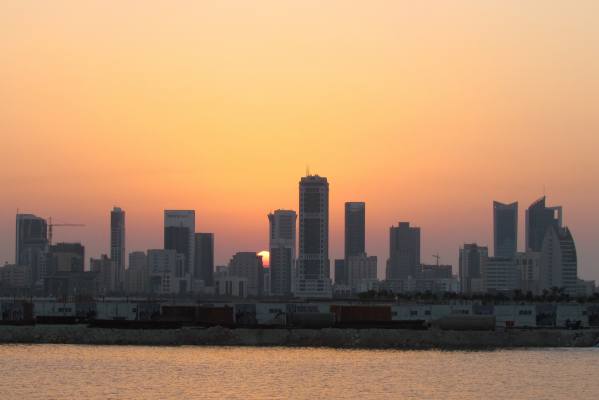 Image: Rory
Bahrain International Airport (BAH)
Bahrain International Airport is located in Muharraq, only 7 kilometres northeast of the country's capital, Manama. Bahrain Airport is small but clean and efficient. Upon landing you will find several fast food chain restaurants, a few shops, and a duty free store. Flights from cities all over the Middle-East arrive here daily, as well as major international routes from cities like Amsterdam, Dubai, and Colombo.
To collect your rental, head to the car rental kiosks located in the arrivals hall. A rental agent will escort you to your car located in a nearby parking lot.
Guide to driving a car hire in Muharraq
Use the handy guide provided below for directions, driving tips and parking information.
Driving from Bahrain International Airport
Bahrain Airport is centrally located within Muharraq and is easily accessible from Airport Avenue. Take Arad Highway from the airport to Dry Dock Highway to drive along the coast of the Persian Gulf toward the city.
Use your GPS for detailed directions to your desired destination.
Driving tips for your Bahrain rental car
Hire a GPS for your rental and carry a paper road map of the area in case your GPS fails.
● Drive on the right side of the road, take over on the left.
● Eating, drinking, and smoking are not permitted while driving.
● Ensure your cellphone is in hands-free mode while driving.
● Ensure you and your passengers are buckled up at all times.
● There is zero alcohol tolerance in Bahrain so make other arrangements for transportation if you plan to drink.
● Although tourists are allowed to consume alcohol in Bahrain, public intoxication will result in incarceration if caught by police.
● No right turn on red lights.
Take note of these rental car breakdown tips as a precautionary measure.
Parking in Muharraq and at Bahrain International Airport
There is one long-term parking lot and several short-term lots at Bahrain Airport. A shuttle bus operates between the car parks and airport terminal. The Overflow parking lot is a 20-25 minute shuttle bus ride to the airport. The Premium lot (Car Park A) is located directly in front of the terminal and users pay a premium to park here.
You will find paid parking lots and some metered street parking throughout Muharraq. Many tourist sites have free parking available. Adhere to parking time limits to avoid being ticketed.