Your Bahamian holiday awaits! Secure a cheap rental car from Freeport Airport and start planning an island road trip you'll never forget.
Freeport is the main city on Grand Bahama, and famous for its oceanfront Lucaya district with pristine beaches, stunning resorts and island shops. Visit the Garden of the Groves, the city's botanical garden, and grab drinks at Port Lucaya Marina. You can dive under the azure waters to explore Deadman's Reef, a favourite for snorkelers and scuba divers, or go underwater cave diving for a truly unique experience.
After exploring Freeport, hop in your airport rental car to uncover Grand Bahama's most beautiful beaches and national parks, home to a wide variety of tropical, native birds.
If you're flying over to the main island of New Providence, pre-book a rental car for Nassau Airport for more island exploration.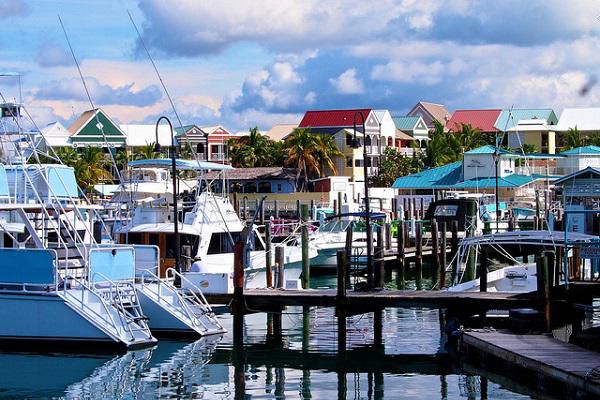 Image: Geoff Livingston
Hiring a cheap Freeport rental car with Airport Rentals
Don't wait until the last minute, pre-book your holiday rental car to save time and money. Airport Rentals delivers the best industry deals from multiple rental car suppliers on one simple page. All you have to do is type in your travel details and in seconds, a large list of vehicles from brands such as Avis and Hertz will pop up with affordable rates. Narrow your search by using preference filters to find the ideal island wheels. Wrap up your car hire on our secure site without the hassle of hidden fees, plus receive Airport Rentals' free benefits such as unlimited mileage. If you have any questions during the process, feel free to reach out to our 24/7 customer service team.
Grand Bahama International Airport (FPO)
Touch down at Grand Bahama International Airport, Freeport's international transport hub on the Grand Bahama island. The terminal has basic facilities including a bar, restaurant, duty-free outlets and gift shops. WiFi is currently not available in the main terminal. When you are ready to collect your rental car, head to the arrivals hall on the ground floor to find your designated rental kiosk.
If you're picking up a car hire from downtown Freeport, pre-arrange a shuttle or hail a taxi.
Guide to driving a car hire in Freeport
Use our Freeport driving guide for driving tips, directions and parking information.
Driving from Grand Bahama International Airport to downtown Freeport
Freeport is a short 10-minute drive from the Grand Bahama Airport. Hop on Grand Bahama Highway from the airport, then turn right onto Coral Road. Next, take the first exit on E Settlers Way and turn right onto Balao Road. This will bring you into Freeport.
Driving tips for your Freeport rental car
There is just one important thing to remember when driving in Freeport; stick to the left side! The roads here are wide and have little traffic so getting around is easy with a rental car.
● Speed limit is 75 km/h on open roads and 40 km/h in cities and towns.
● Every passenger including the driver must wear a seatbelt.
● Make sure to watch out for pedestrians near the road.
● Children under the age of 5 must be in a child seat.
● In case of a breakdown, read our tips on what to do in the situation.
Note: Although in Freeport drivers stick to the left, some cars have left-hand side steering wheels. Talk to your rental car company if you are uncomfortable with this.
Parking options at the Airport and downtown Freeport
Located directly in front of the Grand Bahamas International Airport is both short and long-term parking. Expect to pay around USD$3 for an hour and up to USD$20 for the day.
Most on-street parking in Freeport is free of charge. Make sure to abide by signs to avoid fines. Parking garages and lots are also available, plus they often have attendants onsite. Pay around USD$2-3 per hour.
Enjoy your Bahamian adventure and be sure to read our tips for planning the perfect road trip before you start your holiday.