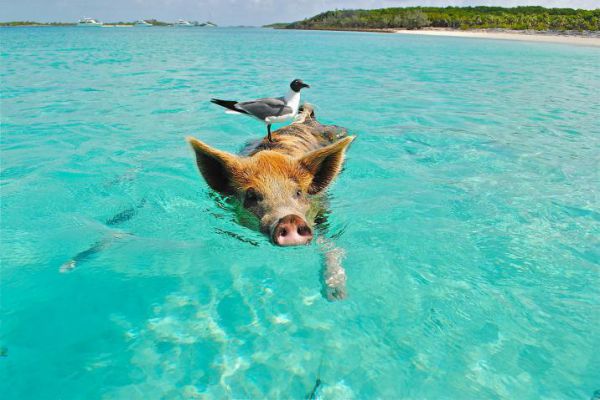 Image: Pixabay
The name 'Bahamas' brings forth images of white sands, emerald waters and palm trees swaying in a gentle breeze. Everything you heard about this Atlantic paradise is true, and a cheap rental car will make it all the more real as you beach hop from one gorgeous location to the next.
This archipelagic state has more than 700 islands in total, covering over 100,000 square miles of ocean. The Bahamas was once a British colony, and became an independent realm of the Commonwealth in 1973. Today the nation enjoys a thriving economy - largely thanks to its booming tourism trade and annual events such as Spring Break.
Most people fly into Nassau on New Providence island and make their way to the other islands from there. Shoppers will love the bustling Port Lucaya Marketplace in Freeport on Grand Bahama Island, and the kids (and big kids) will love the chance to interact with friendly dolphins at the dive centre with Dolphin Experience.
The Bahamas is one of the best destinations in the world for scuba diving and snorkelling, and if you're looking for a little underwater exploration during your time here, Thunderball Grotto is the place to be. Its beauty has won it starring roles in numerous Hollywood films (including James Bond hit 'Thunderball'), and you should find plenty of stunning marine life while you're there.
How to find the best deal on Bahamas car hire with AirportRentals.com
Whether it's a romantic getaway or a family reunion, kicking off your Bahamas trip with the best deal on a car hire is always a good start. You'll first need find and compare the deals on offer from the rental companies in The Bahamas, and for that you can use Airport Rentals.
When you enter your travel dates into the search function, Airport Rentals will generate a list of available vehicles for hire during your stay. You'll easily be able to compare prices and vehicles from all rental companies on one page, and you can narrow down your results with the filter functions if you're looking for something specific.
If you have questions, you can find the answers with our 24/7 online and phone assistance, or you can go ahead and book securely online. Confirmation is instant and you never have to worry about hidden fees.
Top car rental locations in The Bahamas
When renting a car in The Bahamas, it may be easiest to hire a vehicle for the duration of your stay on each island. While it is possible to take your car rental from one island to another on the ferry, it is often cheaper and easier to organise separate rentals.
Nassau is the largest city in The Bahamas and a great place to pick up a car rental to explore Providence Island. You can pick up your car rental when you arrive at Nassau Airport, or you can rent a car from Paradise Island, a small stretch of land next to Providence Island that's connected by bridges.
If you're looking to explore the Grand Bahama Island, you can start your trip with a car rental at the Freeport Airport, or you can opt to pick up your vehicle within Freeport itself.
Leading car rental brands in The Bahamas
There are five major car rental companies offering vehicles in The Bahamas. If there's one you'd like to rent from in particular, simply choose that brand as a filter when you search on Airport Rentals.
● Dollar: Dollar prides itself on offering vehicles for every occasion.
● Thrifty: Thrifty aims to always offer the best price on car hire.
● Avis: Avis is all about excellence in customer care and loyalty.
● Budget: Budget works to offer affordable vehicles for any trip.
● Hertz: Hertz is a major brand that offers rental desks in countless locations worldwide.
Road rules you need to know in The Bahamas
Driving in The Bahamas presents a unique challenge, as you will be driving on the left-hand side of the road, but many of the vehicles are imported from the US, meaning the steering and controls are on the left-hand side of the car. If this concerns you, please let us know at the time of booking.
● Speed limits are relatively low in The Bahamas, at 40km/hr on most urban roads, and 75km/hr on rural roads.
● If you're travelling with children, they can only sit in the front seat if they are aged 12 years or older.
● Top tips for driving your rental car in The Bahamas
● If you get a vehicle with the left-hand side driving and backwards controls, it's a good idea to take the car for a drive on quiet country roads to get used to it.
● Take extra care on rural roads as they are often narrow and winding, and not always in good shape.
● Avoid driving outside of the cities after dark if possible as these routes are not usually well lit.
● Be wary of other drivers and motorcyclists in particular as locals often flout the road rules.