To the west of the sparkling Caspian Sea lies the beautiful country of Azerbaijan. Tucked into the water's edge by the neighbouring countries of Armenia, Georgia and Russia, with Iran to the south and Kazakhstan across the sea, Azerbaijan has been influenced by both Europe and Asia, making it a fabulous cornucopia of flavours and cultures. Rent a car in Azerbaijan and hit the road to discover the many delights of this fascinating region.
A colourful combination of breathtaking architecture, quaint villages, mountainous scenery and fascinating historical sites, Azerbaijan offers cosmopolitan delights and incredible scenery. Be sure to sample both, enjoying lively city splendours and rural villages. Fly into Baku and pick up a car hire and hit the road for the ultimate Azerbaijani adventure.
Booking a rental car in Azerbaijan with Airport Rentals
Tick another item off your holiday to-do list by pre-booking a car hire in Azerbaijan with Airport Rentals. Compare vehicles and find the best deal in just a few clicks.
Select your travels dates and choose your departure location to get started. A comprehensive list of available cars will be generated for easy viewing and comparison. Use the handy filters to narrow down your options by price, transmission type, capacity and more. Once you've made your final vehicle selection, you can enjoy instant confirmation of your booking on our secure site, with no hidden costs or additional fees to worry about. If you should require assistance at any point in the process, a knowledgeable and friendly customer service team is just a phone call away, 24 hours a day, 7 days a week.
Jump in a rental car and explore Azerbaijan
Baku - As the capital of Azerbaijan, Baku is a thriving metropolis of vibrant culture, entertainment, architecture, art and history. Pick up a car hire and discover museums, markets, mosques, and more.
Situated at 28 meters below sea level, Baku is the lowest lying capital in the world, and as such has quite distinct seasons. You can expect warm, dry summer days throughout June, July and August, but if you visit in winter (December to March), take a warm jacket as you may be subject to one of the infamous snowstorms.
Your visit to Baku should include hitting the shops, wandering through beautiful parks, and a historical day out at the famous medieval walled Inner City.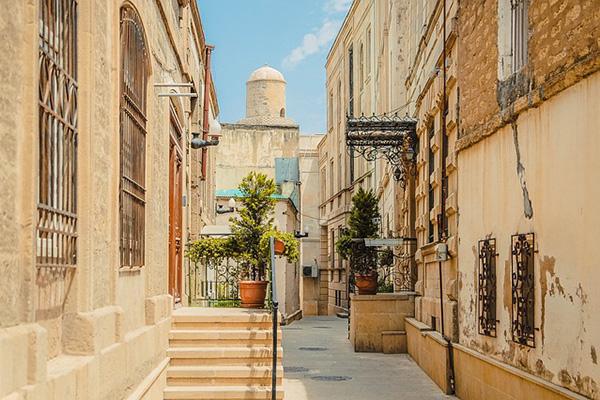 Car rental suppliers in Azerbaijan
You're likely to fly into the capital city of Baku when you visit Azerbaijan. The Heydar Aliyev International Airport also happens to be the best place in the country to pick up a rental car. Complete your reservation with Airport Rentals to enjoy free benefits and convenient traveller services. Do note that to rent a car in Azerbaijan you must be between the ages of 17 and 75, and have both your driver's licence from home and an international driver's permit.
Road rules in Azerbaijan
Whether you've visited Azerbaijan before or this is your first time, it's good to familiarise yourself with the local rules of the road before getting behind the wheel of a car hire.
● Motorists in Azerbaijan drive on the right-hand side of the road.
● Speed is measured in kilometres. Limits in urban areas are generally 20 km/h, and up to 110 km/h on the highways.
● The blood-alcohol concentration limit is zero. Driving under the influence is a serious offence and hefty fines incur.
● All passengers must wear a seatbelt at all times.
● U-turns are not permitted at pedestrian crossings, in tunnels or under bridges.
● If the speed limit is less than 50km/h, overtaking is prohibited.
● The use of a mobile phone while driving is illegal.
Visit the Azerbaijani State Traffic Police Department website for a full list of road rules.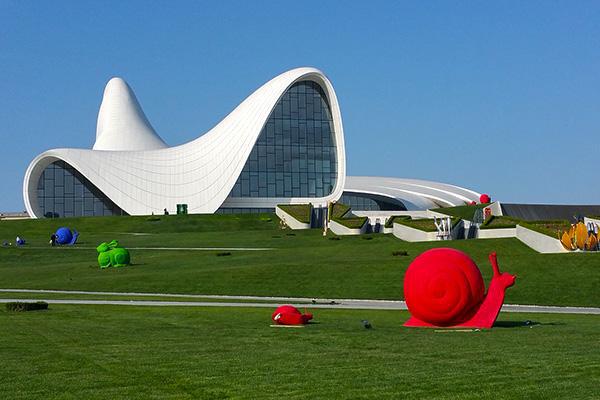 Handy tips for driving in Azerbaijan
Here are some additional tips for driving a car hire in Azerbaijan.
● Some traffic lights have an additional colour change sequence: green, yellow, red, yellow, green. Yellow is shown both before and after the red light.
● Avoid driving in the countryside at night, as animals often roam on the unlit roads.
● Note that the unbroken white line dividing the road indicates cars moving in both directions. Broken white lines indicates multiple lanes moving in the same direction.
● A line of thin triangles on the road means you must stop to give way to other vehicles.
● In the unfortunate occurrence of a breakdown, be prepared with our tips on handling car trouble.
● Read our guide to foreign road trips for a few tips on making your Azerbaijan driving experience a success.
Safety note: Azerbaijan is a generally safe place to explore, however avoid travelling in Nagorno-Karabakh region near the Armenian border. Civil unrest between the two countries means it's not safe to visit.