Leafy, laid back Graz is a fantastic place to begin your car rental adventure in Austria. It's a buzzing student town, home to six universities. The youthful vibe and excellent arts and nightlife scenes will send you on your way with energy and excitement, but before you leave, don't forget to check out the historic Old Town, admire the Italian-influenced architecture and visit the many castles.
Graz is situated relatively far from Austria's other main cities in the southeast corner of the country, but with a car hire, you can visit Vienna, Linz and Salzburg. Look beyond the borders to Italy, Slovenia, Switzerland and the many other nations surrounding Austria, and you'll find many more wonderful cities and landscapes to discover. In the wintertime, a Graz car hire will see you well-situated to enjoy Europe's many ski resorts.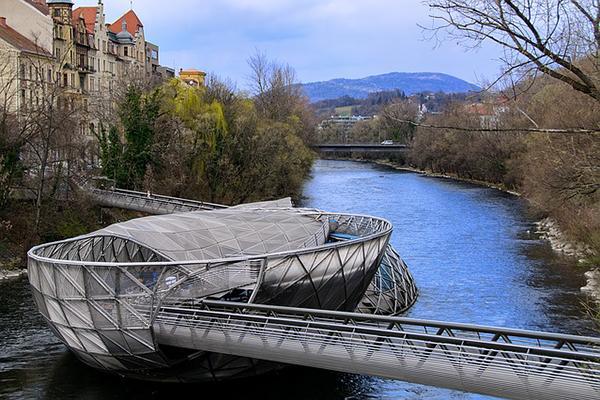 Booking a Graz Airport car rental
Find, compare and sort through affordable rental cars in Graz with ease thanks to Airport Rentals. We take the troubles out of looking for the right vehicle with our simple search engine. Just enter your dates and browse the results from a range of suppliers, all presented on one page in an easy-to-read format with necessary information visible. We can show you a huge variety of vehicles, from luxury cars to economical hatchbacks, at the best prices you'll find on the web.
With the filters for features like transmission, passenger capacity and vehicle type, it's not a problem to pinpoint the perfect rental car deal in Graz. Once you've found it, follow the secure booking process, and you're set for an Austrian car hire adventure! Our team of rental consultants are available over the phone 24/7 to help at any stage.
Graz Airport (GRZ)
The airport at Graz, locally called Flughafen Graz, is an international airport serving the city and region with flights to and from various locations around Europe - many of which are seasonal. In the passenger terminal, travellers can make use of and enjoy shops, restaurants, a bank and ATM, information services and free WiFi.
There are rental counters for the on-airport car hire companies right in the arrival hall.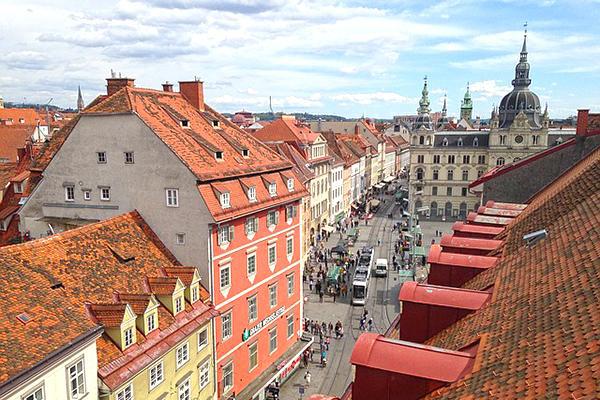 Guide to driving a rental car in Graz
Getting from the airport to central Graz
It's almost ten kilometres from the airport to downtown Graz, a journey of 15-20 minutes. Turn left onto B67 and follow it into the city, then exit right to follow Triester Strasse. Continue on Karlauerstrabe, turn right on Zweiglgasse to cross the river, then go left and follow the riverbank into central Graz.
Driving tips for your Graz rental car
Graz has many one-way roads, so pay close attention to signs.
Austria car hire driving tips
● You will require a vignette sticker - this is how Austrian highways are tolled. Ask your rental company about whether your car will come equipped.
● The blood alcohol concentration limit for drivers in Austria is 0.05%.
● Winters in Austria get snowy. Take a look at our winter driving tips to stay safe.
● Austria has Autobahns, but unlike those of Germany, they do have a speed limit of 130 kilometres per hour.
● Seatbelt usage is mandatory, and children under 12 years of age or 150cm in height must use appropriate child restraints or seats.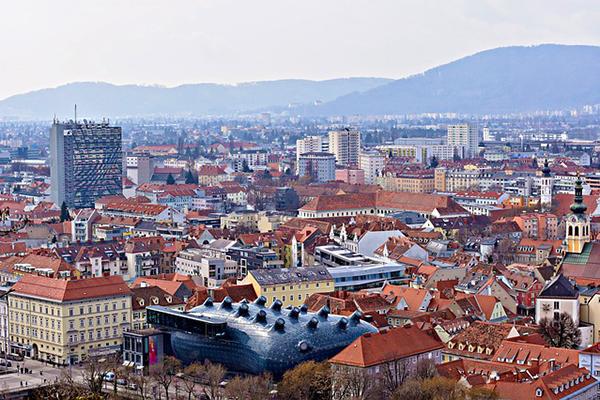 Parking at Graz Airport and in the city
There are plenty of parking spaces at Graz Airport, from open-air lots to the multi-storey parking building. The first 30 minutes are free, and after that, there are hourly rates which vary for different sections but start at €2.40 in the P1 lot (closest to the terminals) and go as low as €1.60 in the long-term P4 lot which is the farthest away.
On-street parking in Graz is split into Blue Zone (limited to two or three hours) at €0.90 per half hour and Green Zone at €0.60 per half hour. Parking lots in the city centre are a secure option and will usually cost anywhere between €1 and €4 per hour. There are also affordable - and sometimes free - parking options at Park and Rides in the city's suburbs, from where you can take public transport downtown.