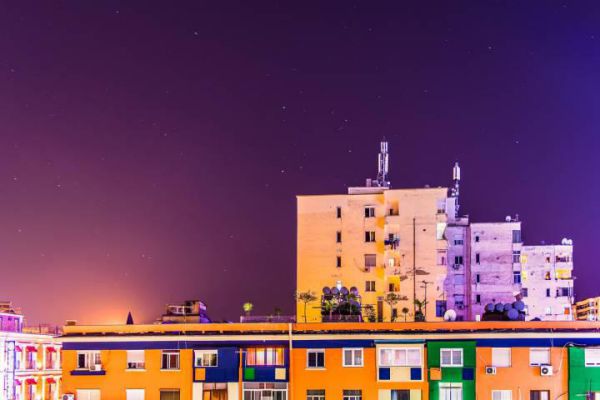 Image: Pixabay
Tour Tirana, Albania's capital city, with an affordable airport rental car.
Tirana's once troubled town has transformed into a bright, eccentric city offering plenty of green space and walkable attractions. Wander amongst pretty pastel-coloured buildings in Skanderbeg Square. Explore Bunk'Art, the museum of history and contemporary art located in a massive cold war bunker.
Once you've seen all there is to see in Tirana, trade in the city sights for mountain views in Mt Dajti National Park. Extend your travels with trips to Durres and Saranda, or head north to Montenegro or south to Greece.
Hiring a cheap Tirana rental car with Airport Rentals
Pre-book a cheap rental car with Airport Rentals to get the best deal on car hire in Albania. Our top-rated comparison site allows you to search for competitive prices from numerous car suppliers in one place. Type in your travel dates to see what's available at Tirana Airport and use the handy filters to narrow your results by personal preference. You can opt for a manual or automatic transmission and choose your favourite brand. Rent with a European brand such as Sixt and Sur Price or go with an international supplier like Budget.
Finish your booking in just a few clicks and receive instant confirmation. With Airport Rentals, you never have to worry about hidden fees, and get access to free benefits and 24/7 customer service.
Tirana International Airport Mother Teresa (TIA)
Tirana International Airport Mother Teresa is Albania's only international airport, processing over 2 million passengers each year. The modern, single-terminal airport provides dining options, travel and souvenir shops, duty-free stores and free WiFi.
To locate the rental car counters, head toward the Public Area exits or Arrivals Area. If you are collecting a car hire from downtown Tirana, you can hail a taxi to get there for roughly €18, or take the Rinas Express bus.
Guide to driving a rental car in Tirana
Our helpful guide to Tirana includes driving tips, directions and parking assistance.
Driving from Tirana International Airport to downtown
To get to Tirana from the airport, take SH60 south then turn left at the bridge onto SH2. Continue on this highway until reaching the city centre. The 18-kilometre journey takes around 30 minutes.
Driving tips for your Tirana Airport rental car
Albania drivers don't have the best reputation. Stay alert and drive cautiously in your car hire.
● Drive on the right side of the road.
● Always wear a seatbelt and keep your headlights on at all times.
● The speed limit is 50 km/hr in urban areas and 90 km/hr in rural locations.
● Keep a roadmap in the car.
● If you are planning to drive in the outskirts of cities, a 4x4 vehicle is the optimal choice.
● You may pass through toll roads when driving cross-country.
Parking options at the airport and downtown Tirana
Tirana International Airport offers 'Kiss and Fly' curbside drop-off free for up to 4 minutes and charges 300 leke for up to 10 minutes. Otherwise, park in Zone P1 or P2, free for 7 minutes with a rate of 150 leke and 120 leke for the first hour. For a 24-hour period, pay 720 leke in P1 or 300 leke in P2.
Parking in Tirana's city centre can be challenging. The Sheraton and Rogner hotels have secured parking available for non-guests and the Vesa Centre mall has a cheap underground lot. On-street spaces are available but finding them is difficult.